Mcommerce: Everything You Should Know
What is mCommerce?
Mobile commerce, commonly referred to as mCommerce, is the use of mobile devices to purchase products online. Mcommerce includes everything from shopping, online banking, paying bills, and subscribing to platforms, and has quickly become an important revenue stream for digital shopping.
What's the difference between mCommerce and eCommerce?
Ecommerce is a general term for purchases made on the internet. Mcommerce functions as a subcategory of eCommerce, through which customers make online purchases from their mobile phones, using mobile websites and apps.
In the retail world, mCommerce often falls under the umbrella of omnichannel – a multichannel approach to sales intended to provide a seamless customer experience, no matter what platform the customer is using to purchase and receive their goods. Omnichannel retail at its core consists of desktop, mobile, and in-store shopping, but it also includes social commerce, Buy-Online-Pickup-In-Store (BOPIS), and other, newer platforms.
The rise of mCommerce
In 2021, mobile phones generated 54% of internet traffic, while desktops generated only 42.9%. Accessing the internet from a mobile phone these days costs little to nothing, giving consumers plenty of opportunity to do their shopping and take care of their finances without having to invest in a computer. Also, with multiple people living at home and, typically, an insufficient number of computers in each multi-person household, people more heavily rely on their mobile devices.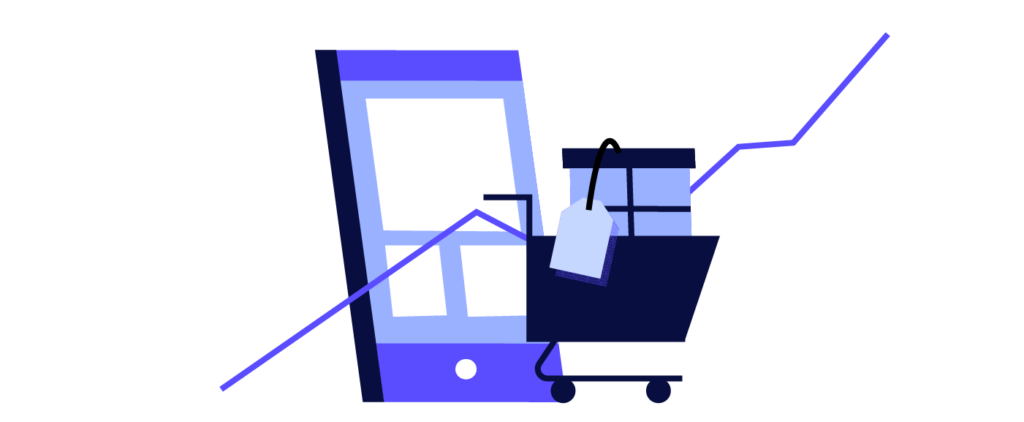 Mobile devices and infrastructure have long since caught up to desktops, and provide nearly equal internet browsing speed. Shopping on mobile also fits perfectly with the lifestyle and consumption behavior of today's consumers, especially millennials and Gen-Zers.
Digitally adept merchants invest heavily in their mobile offerings, creating their own apps and optimizing their websites for mobile browsing. Mcommerce has raised the bar for customer expectations regarding convenience and speed. Whenever and wherever necessity or inspiration arises, smartphone users need only travel as far as their pocket to make a purchase. Merchants are actively capitalizing on this by promoting quick and spontaneous purchasing.
Benefits
Mcommerce is an important evolution in the digital, retail, and eCommerce world, for both customers and merchants. It opens the door for:
Wider audience & better customer experience: Customers have the ability to shop on their phones, and merchants expand on their audience and reach those who don't necessarily use desktops or laptops.
Growth potential: Mobile commerce sales are expected to make up over 10% of all US retail sales by 2025, a steady increase from 3.5% in 2018.
Payment options: With mCommerce, customers are no longer constricted to a specific method of payment, but can instead choose from Apple Pay, Visa Checkout, PayPal, and more. Many mobile sites and apps also offer an option to save a preferred method of payment, allowing for faster, one-click checkout.  
Quick browsing & transactions: Mobile apps provide customers with a better customer experience and faster transactions.
Challenges
A challenge of mCommerce is that it often leads to higher friction than desktop experiences, because of aspects such as limited screen and scrolling space and smaller form fields in the checkout process.
Customers typically abandon their cart during checkout because of the friction added by third-party payment processing sites or a generally frustrating mobile checkout experience. And when it comes to payment, both entering and saving payment information is risky – on the one hand, having customers enter payment information in tiny form fields (which leads to errors and friction) creates losses for merchants, and on the other hand, saving payment information makes customers more vulnerable to fraud.
Many merchants haven't adapted their fraud prevention solutions to mobile – commonly applying the same fraud-management tactics and strategies they use for their overall eCommerce operations to their mCommerce channels and orders – making mCommerce a much easier target for fraudsters.
Mcommerce fraud prevention
To combat fraud, merchants can take preventative measures tailor-made for mCommerce fraud prevention – first by shifting how they view mCommerce orders. It's important to prioritize the right data points and move away from less-relevant data points that may have been reliable in traditional eCommerce. Indicators that may be valuable in traditional eCommerce fraud review can be less revealing in mCommerce fraud review. Knowing which revelatory data points that are unique to mobile orders to track and analyze can make all the difference.