How COVID-19 is Impacting eCommerce in LatAm

While it is still too early to assess the impact the Coronavirus pandemic will have on the LatAm economy, some analysts are forecasting a 5.3% contraction in the regional Gross Domestic Product (GDP). The drop would constitute the largest in its history, and if projections are accurate, unemployment and lower buying power will be inevitable.
When focusing on eCommerce, however, some industries are actually benefiting. But above all, online merchants in LatAm are seeing a change in the way consumers are shopping, which is generating new challenges; fraud is becoming more sophisticated and false declines are on the rise.
In this post I'll address the impact the pandemic is having on eCommerce in LatAm, I'll take a look at specific markets and I'll provide some tips to deal with challenges that have been aggravated by the pandemic.
How COVID-19 is impacting eCommerce in LatAm
Current events have changed consumer purchasing patterns, forcing more people to rely on eCommerce. And while the pandemic has temporarily hurt some industries, merchants with digital channels are expected to benefit in the long run.
According to Riskified data, order volume has steadily risen since the end of March, reversing the overall trend since the start of the pandemic, which has seen a significant 44.5% decline in volume from January 6 to April 6. But LatAm is actually faring better compared to other markets. In China and France, order volumes have declined since the end of March. As for fraud, in LatAm, attempts decreased by roughly 19%, while the US had a 40% rise since the end of March.
Industries with an uptick in business
All regions are experiencing an increase in the sales of essential goods, mainly groceries. In LatAm, Mercado Libre announced that the sales of basic products soared by more than 400%. But according to our internal data, there are other industries exhibiting impressive growth. Gift card sales saw a 40% surge between January and March, and as volume grew, fraud rates fell by nearly 50% during the same time period – being dwarfed by the large influx of legitimate new customers.
Industries where business was hurt
Travel. Airlines and Online Travel Agencies were heavily impacted. In March 2020 last-minute purchases rose by 200% compared to March 2019 – probably travelers scrambling to get home – but the overall number of flights fell by 70%. According to an estimate by the International Air Transport Association (IATA), airlines could lose up to $113B in revenue this year due to the impact of the virus. Riskified data confirms this trend, with travel-related sales falling 45.3% between January and March.
Electronics. Riskified data shows online sales in the industry decreased by 29% between January and March. Many manufacturers' supplies are coming from China, where factories are closed or not running at full speed, causing shipping delays.
Fashion. Our data shows that online fashion sales in LatAm decreased by 27% between January and March. With stores closed, fashion shows canceled, and production chains interrupted, brands like Inditex (Zara), H&M, Balenciaga, Yves Saint Laurent, Louis Vuitton, Christian Dior or Gucci are directing resources toward manufacturing and donating face masks and other supplies. Consumers in the region – on their end – are withholding non-essential purchases, and this is reflected in the data.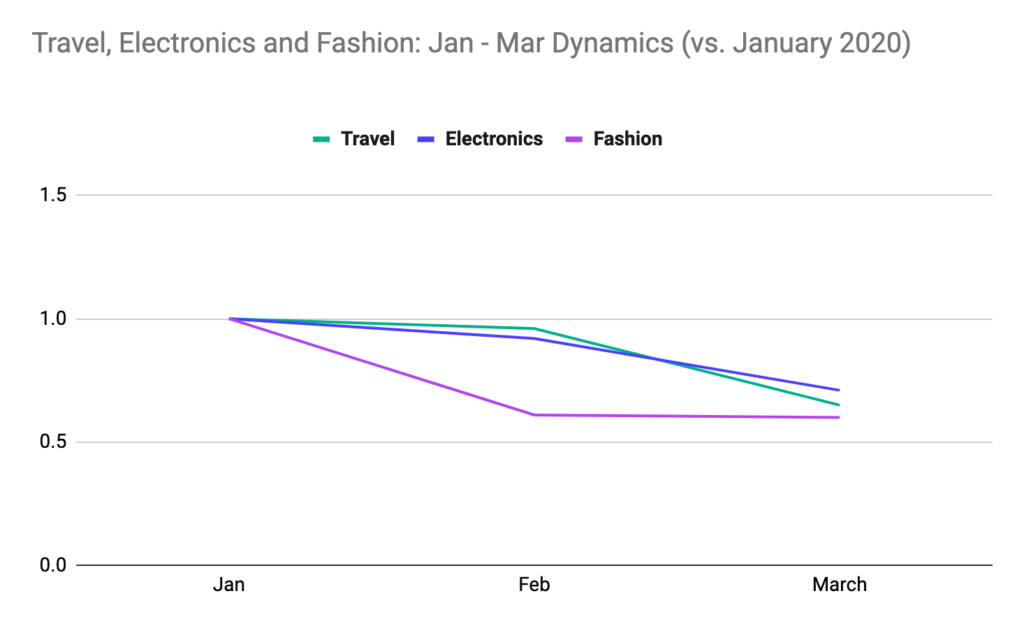 Brazil, Mexico, Colombia, Argentina and Chile
The case of Mexico
Our internal data shows that from January to March, Mexican eCommerce sales dropped 38%, in line with the decrease in most geographies. According to Mexico's association of online sales, AMVO, 24% of Mexican merchants expect a return to normalcy by June. But some consultants believe eCommerce is going to see an unprecedented increase in Mexico as a result of the pandemic. Oliver Aguilar, a consumer analyst at the consulting agency IDC, is predicting a 60% rise by the end of the year, as the pandemic ushers in a new community of online shoppers.
Insights: Mexico is well-known for having the highest fraud rate in LatAm, which is aggravated by the 40% increase seen during Q1 of this year. One reason for the rise is lower order volumes, which means that the same number of fraud attempts constitutes a higher share of the total order volume. Still, fraudsters are clearly taking advantage of the current situation and the uncertainty and fear it brings. Merchants should be prepared to face this challenge. The opportunity of new customers far outweighs the risk that new customers bring, so an overly strict approach could be counterproductive, and result in more false declines and lost revenue.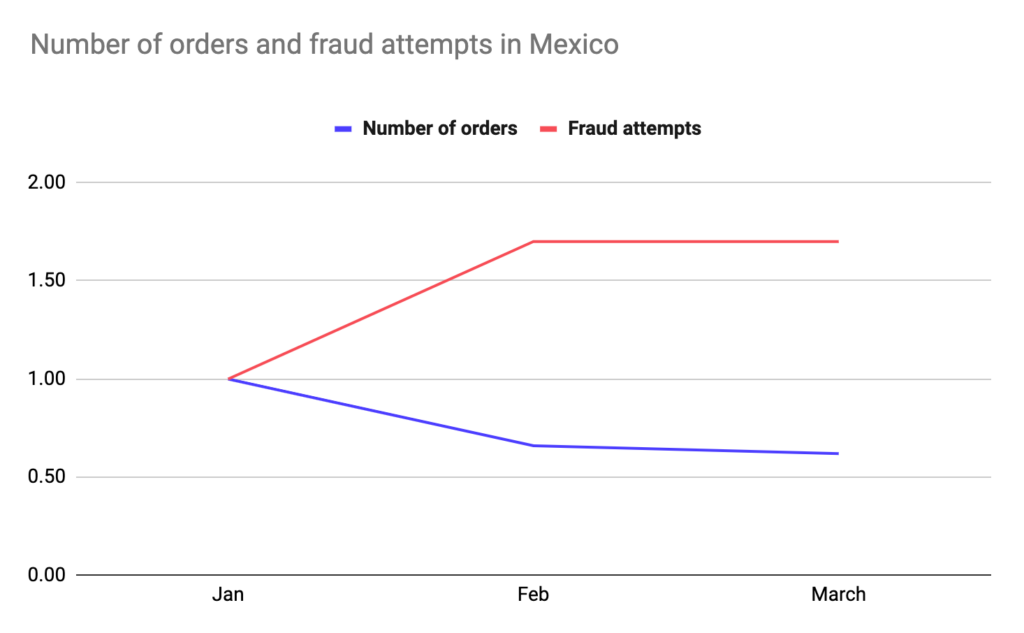 Also – according to AMVO, small businesses are the most affected by the pandemic in Mexico, since just 10% have a digital presence. Now more than ever, it is crucial for Mexican merchants to digitally transform. This is key to making the most of this period of uncertainty.
The case of Brazil
Our data shows that online orders in Brazil fell by 35.8% between January and March, as consumer confidence was the first victim of the pandemic. But the first weeks of March have seen a 40% increase in Brazilian eCommerce sales, compared to the same period in the previous year.
What is also obvious is that Brazilian consumers are still buying – but they're prioritizing essential items. Carrefour Brazil reported a 12,5% rise in first-quarter gross revenue from the same period a year ago. For non-essential goods, spending is still lower. According to Euromonitor International, apparel, footwear, personal accessories and eyewear have been completely deprioritized.
Insights: Crisis always brings uncertainty. One of the biggest surprises of this pandemic is that Brazil, which used to be the country with the second highest rate of fraud in the region, saw its fraud rate fall by 37% from January to March. The explanation for this sudden change could be that traditionally high risk industries, like food and electronics, have actually become much safer as more legitimate customers are buying online.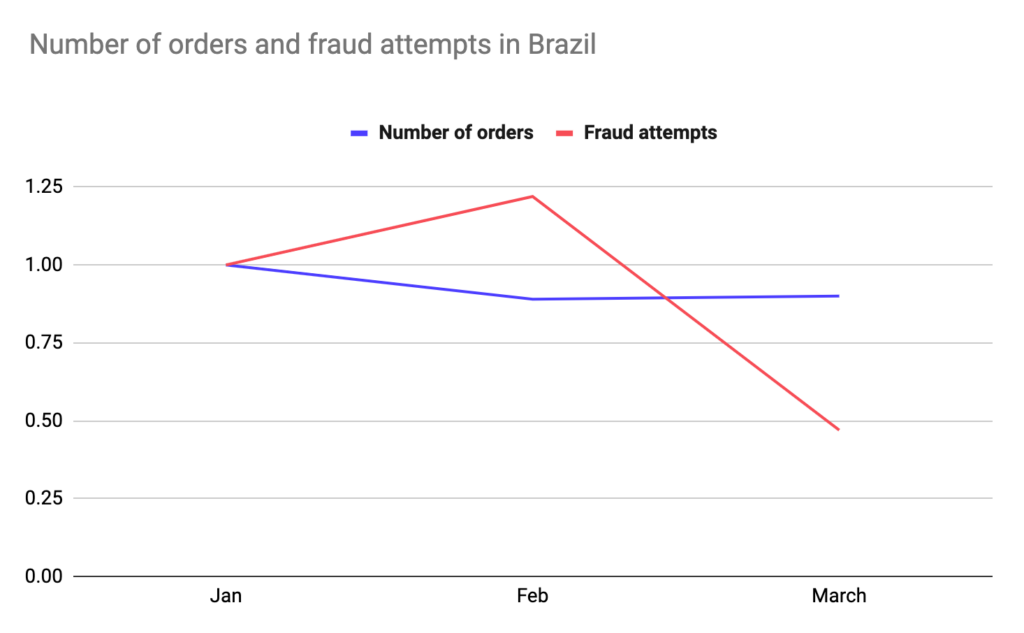 The case of Argentina
Argentina is, according to our internal data, the most stable country in the region in terms of eCommerce, seeing the smallest drop in online orders (-27%) between January and March. Sebastian Corzo from Kantar indicates that the pandemic has led to a 30% increase in new online shoppers.
In the meantime, many companies are seeing the pandemic as an opportunity to expand. The CEO of E3 Ecommerce, Diego Gorischnik, explains: "The coronavirus has sparked the interest of companies to optimize their online business, our contacts have quadrupled. Brands don't want to be left out, as these times [in terms of order volumes] are only equal to events like the Cyber Monday or the Hotsale."
Insights: According to Riskified data, there was a significant increase in fraud attempts – a 170% surge between January and March. On average, online orders made by new customers are 3x riskier than orders made by returning customers. Due to the different buying patterns new customers are exhibiting, merchants may mistake many of them for fraudsters, which could lead to high false decline rates. It is crucial that merchants adopt a strategy and maintain the highest possible approval rate for this valuable segment, to ensure that most of the new customers continue buying online once it's back to "business as usual."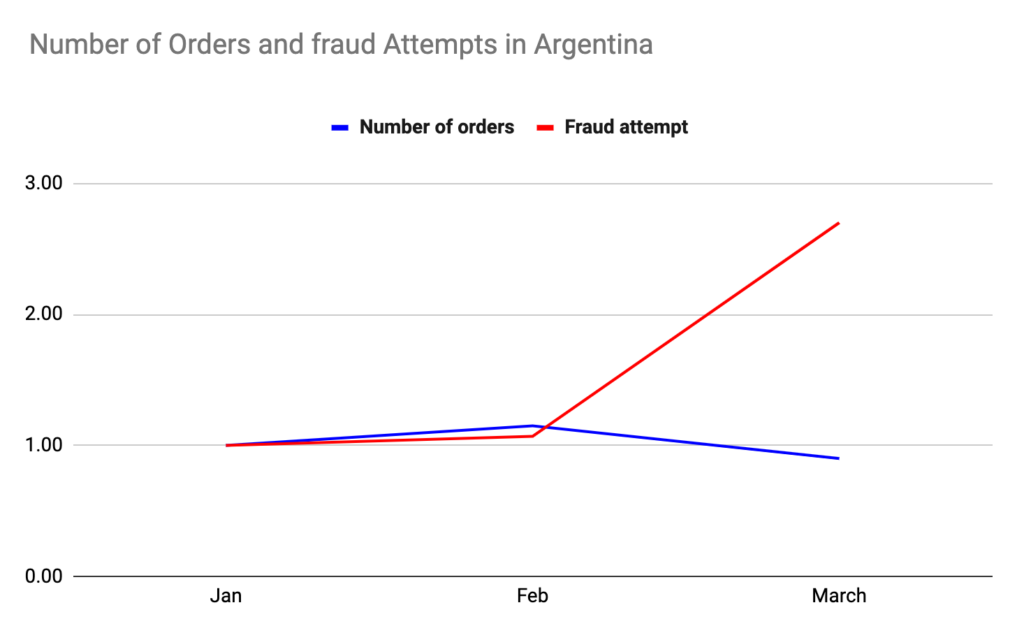 The case of Colombia and Chile
According to Riskified data, eCommerce in Colombia was hit the hardest by the COVID-19 crisis, with a 53% decline in online sales from January to March. This information is in alignment with the data provided by the Colombian Chamber of Electronic Commerce that shows a 47% decrease in sales over the last week of March. According to our data, Chilean eCommerce saw a similar drop, with a 42.2% decrease in online orders. However, Colombia and Chile are well positioned to overcome the crisis, since they have relatively low debt with respect to their GDP. That can explain the recent positive news: Colombia experienced a 29% increase in online orders during the first week of April, and Chile saw a 119% rise during the last week of March.
Insights: Although both countries saw an increase in online orders during April, they both have some of the most elevated fraud rates in the region right now: Chile saw a 35% increase in fraud attempts between January and March, followed by Colombia with 34%. Again – merchants would be wise to invest in fraud detection, to avoid creating a false declines problem, as it's clear the opportunity of new customers is far greater than the potential fraud-related losses.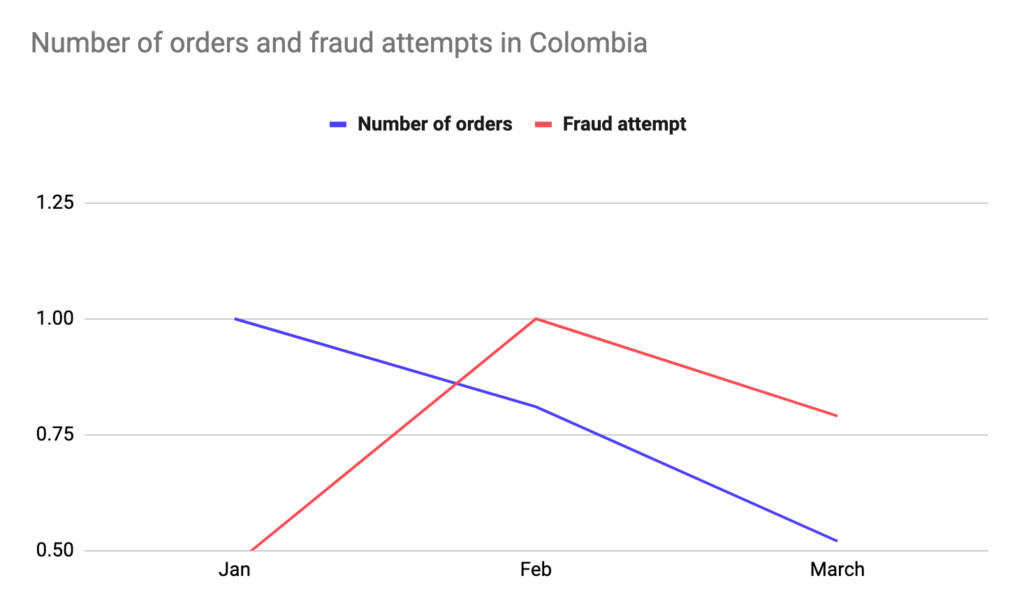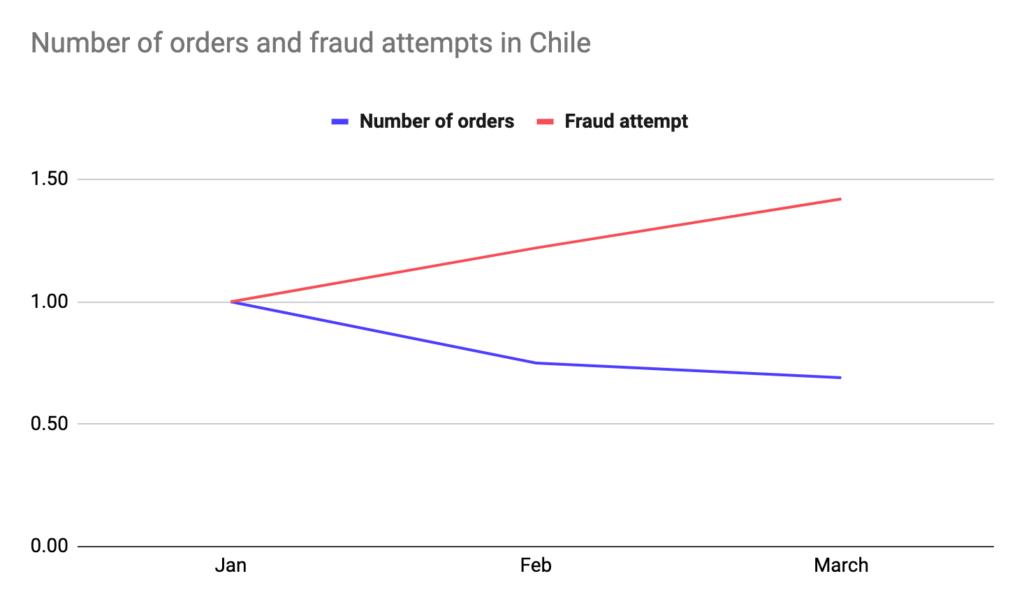 Tips to managing fraud amid changing consumer behavior
New Customers: Due to the influx of new online shoppers and more sophisticated fraud attempts, patterns once perceived as fraudulent have changed. The results – legitimate customers are being mistaken for fraudsters. For example, delivery methods, such as leaving the product at the front door, were previously considered risky (as they resulted in no verification on the shipment.) But amid the pandemic, many shoppers prefer this contactless delivery method, meaning that merchants need to find a way to protect themselves from potential "item not received" buyer fraud. This can be achieved through fraud review that is based on digital verification measures, that adds a lot of confidence at the decision-making stage, and minimizes the likelihood of fraud at delivery.
Emergency protection measures: In times of "business unusual," extraordinary measures must be taken to mitigate risk, and to capitalize on the positive impact on business. One of the biggest problems affecting merchants amidst the current crisis is that the change in consumer buying habits is generating many false declines. Fraud management must be quick to adapt to new methods, and to adopt a positive, inclusive approach that prioritizes business potential over risk. This requires technology that can collect a lot of data to establish customers' digital footprints. In addition, real-time analysis and machine learning are critical to adapt to changing shopper behavior. Finally, risk mitigation in the form of a chargeback guarantee is necessary to allow merchants to focus on selling, even during times of uncertainty.
Optimization of mobile applications: We have seen remarkable growth in purchases using mobile apps. Although it may be a temporary trend, merchants have to cater to consumers who are spending a lot more time on their mobile devices. According to Riskified data, from March 1 to 16, orders made via mobile applications increased by 30%, and this was on top of a spike that started in January.
In conclusion
This pandemic is a catalyst for change that can be positive if merchants make quick and effective decisions to adapt to the new situation. We hope that the information and advice we provided have been useful to you.
For any questions, please reach out via email to bdr@riskified.com