Why the Sneakers Rush Won't Go Out of Style

Resale platforms attract consumers who are not just in it for the fashion, but for the long-term profit.
The age of sneakerheads
This past May, a game-worn pair of Michael Jordan's sneakers sold for an all-time high of $560,000. The seller, a sneaker collector and founder of the Shoezeum sneaker museum stated, "these are the most iconic and coveted sneakers of all time". In fact, following the release of the Netflix documentary 'The Last Dance', sales of nearly every Nike Jordan product soared. While not all brands carry this same kind of fame, the sale speaks to the hype sneakers have made for themselves around the world.
The booming sneaker resale market is a perfect example of the increasing popularity of sneakerhead culture. Resale platforms attract consumers who are not just in it for the fashion, but for the long-term profit. According to StockX, the global sneaker resale market is currently valued at $6 billion. When asked about sneaker trading, StockX CEO Scott Cutler, stated that "while we're a consumer eCommerce platform, we really do believe that this is an asset very much like the financial markets."
Why are sneaker resale markets so valuable to consumers?
Just like gold or silver will always be money, sneakers are reaching a similar type of timelessness among aficionados, with demand appearing to remain stable even in times of economic uncertainty. This was made resoundingly clear in our data on the sneaker industry amid the pandemic. Sneakers seemed to act as a type of 'crisis commodity,' similar to the increase in sales we saw in precious metals. In fact, sneaker sales volume was 60% higher in May than during the December holiday season. This is in contrast to the entire fashion industry, which experienced a steady dip in sales from December through May, as shoppers pulled back from buying non-essentials.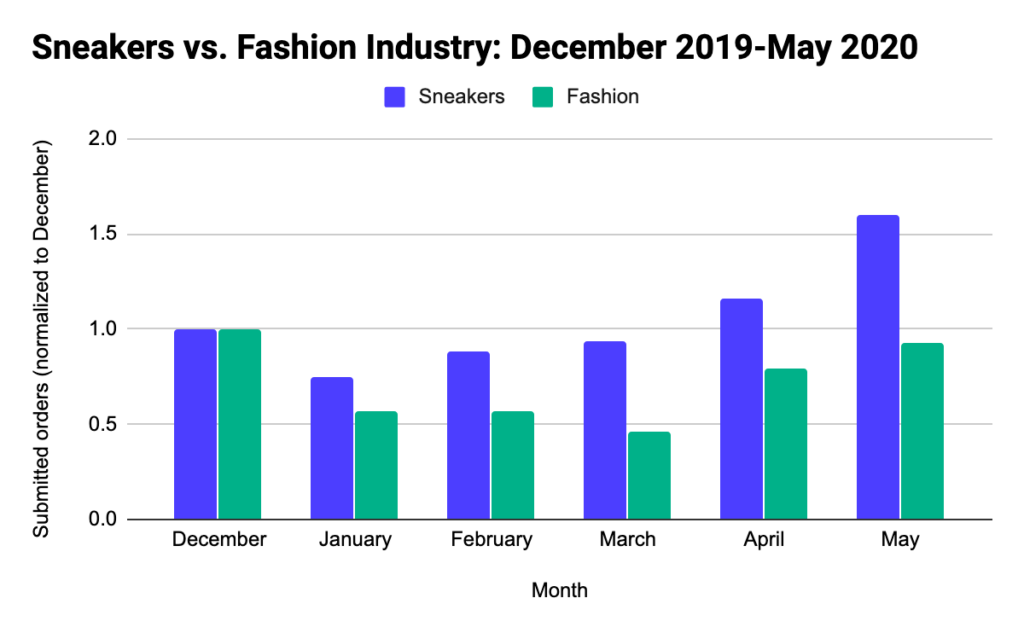 And while fashion retailers struggled to make up for losses brought on by COVID-19, sneaker retailers like Nike saw online sales reach close to holiday peak levels, with third-quarter digital sales up 36% compared to last year. Our data revealed that sneaker merchants also saw the largest increase in first-time shoppers compared to regular fashion and gift card merchants.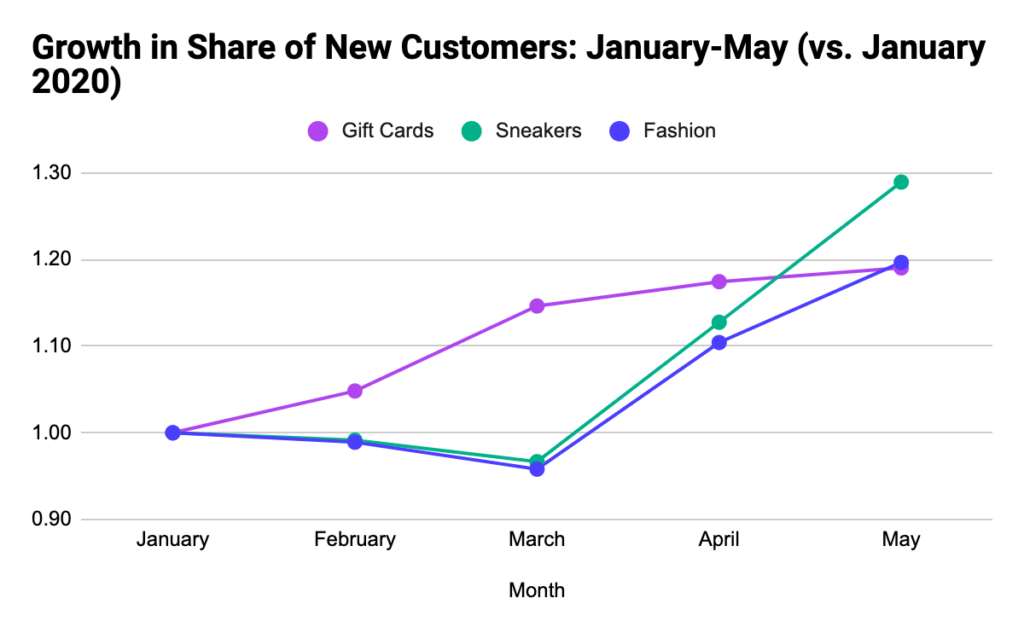 This spike in both new customers and volume can be understood as shoppers not necessarily buying to wear, but collecting as a future investment. And this behavior makes sense: amid trying times, consumers seek financial security and sneakers are proving to be just that– take Kanye West's Nike Air x Yeezy 2 Red, which rose in value from $8,000 in January up to $9,500 in March.
What about fraud?
While sneakers are highly coveted as an investment for legitimate shoppers, the resale market makes them a lucrative target for fraudsters as well. Our data shows that there was a 50% increase in fraud attempts in March compared to December. As more legitimate consumers flooded the industry, fraud momentarily slowed down until it picked up again in May.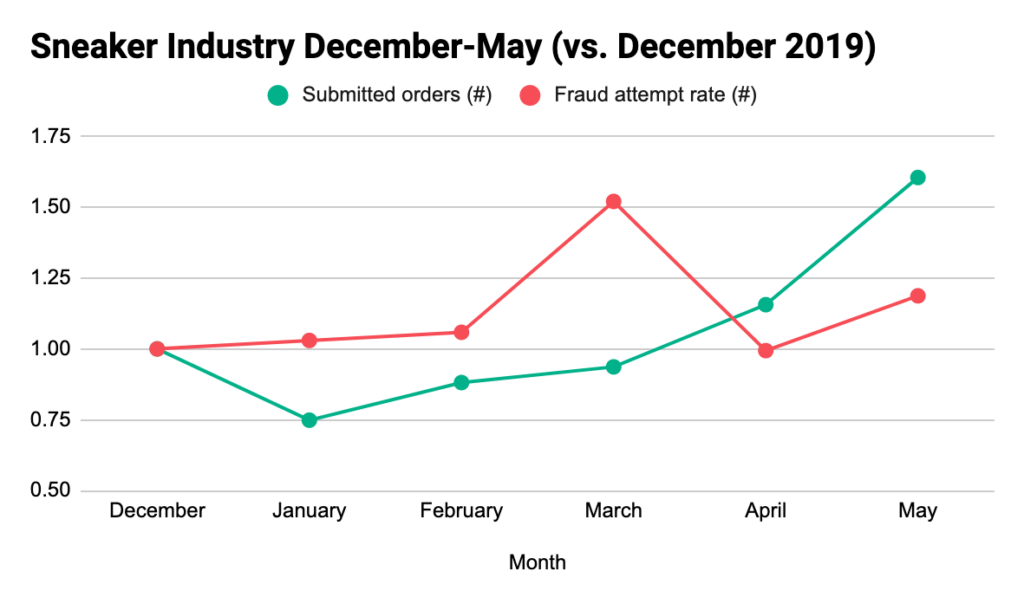 Most sneaker retailers are well-aware of the high levels of fraud, but to further complicate order review, merchants need to account for a popular method among bad actors–sneaker bots. There are cases where legitimate shoppers buy bots so they can have a better chance of purchasing or 'copping' sneakers, especially during a limited release. But fraudsters, who aren't spending their own money, usually order in much greater volumes to get as many pairs at once as they can.
As opposed to the common sneakerhead, fraudsters use advanced bots that can exhaust stock in a matter of seconds–flooding merchants' websites and ruining the shopping experience for loyal customers. Many retailers have tactics in place to deal with bots. Adidas and Nike rolled out mobile apps just for sneaker releases. These apps make the use of bots more difficult, but not impossible. Some retailers document abusive IPs and permanently block them, as well as proxy connections, but as bot technology continues to evolve, it becomes harder to effectively detect and prevent increasingly sophisticated attacks.
In order to scale fraud operations, merchants need an automated system that can accurately detect large-scale bots, across sales channels based on parameters like:
Spoofing detection
Keystroke velocity
Velocity of login attempts
Mouse movements
Scrolling patterns
Mobile device orientation sensors
It's also critical that merchants benchmark velocities to recognize anomalies. Since fraudsters usually collaborate in groups, analyzing clusters of bot orders with similar characteristics can help identify repetitive patterns and safely decline orders associated with a fraud ring.
The currency of footwear is here to stay
It's clear that the sneaker resale market isn't going anywhere. And the good customers banking on this trend as an investment are contributing to a healthy supply and demand that supports the industry. But with bad actors just as eager to get their share, sneaker merchants need to leverage technology to effectively manage risk. By adopting an automated solution, retailers can maximize growth and focus efforts on selling to their most loyal customers, rather than on fighting the next major bot attack to hit their online store.