A Safe Takeoff: Preventing Fraud from Disrupting Airlines' Recovery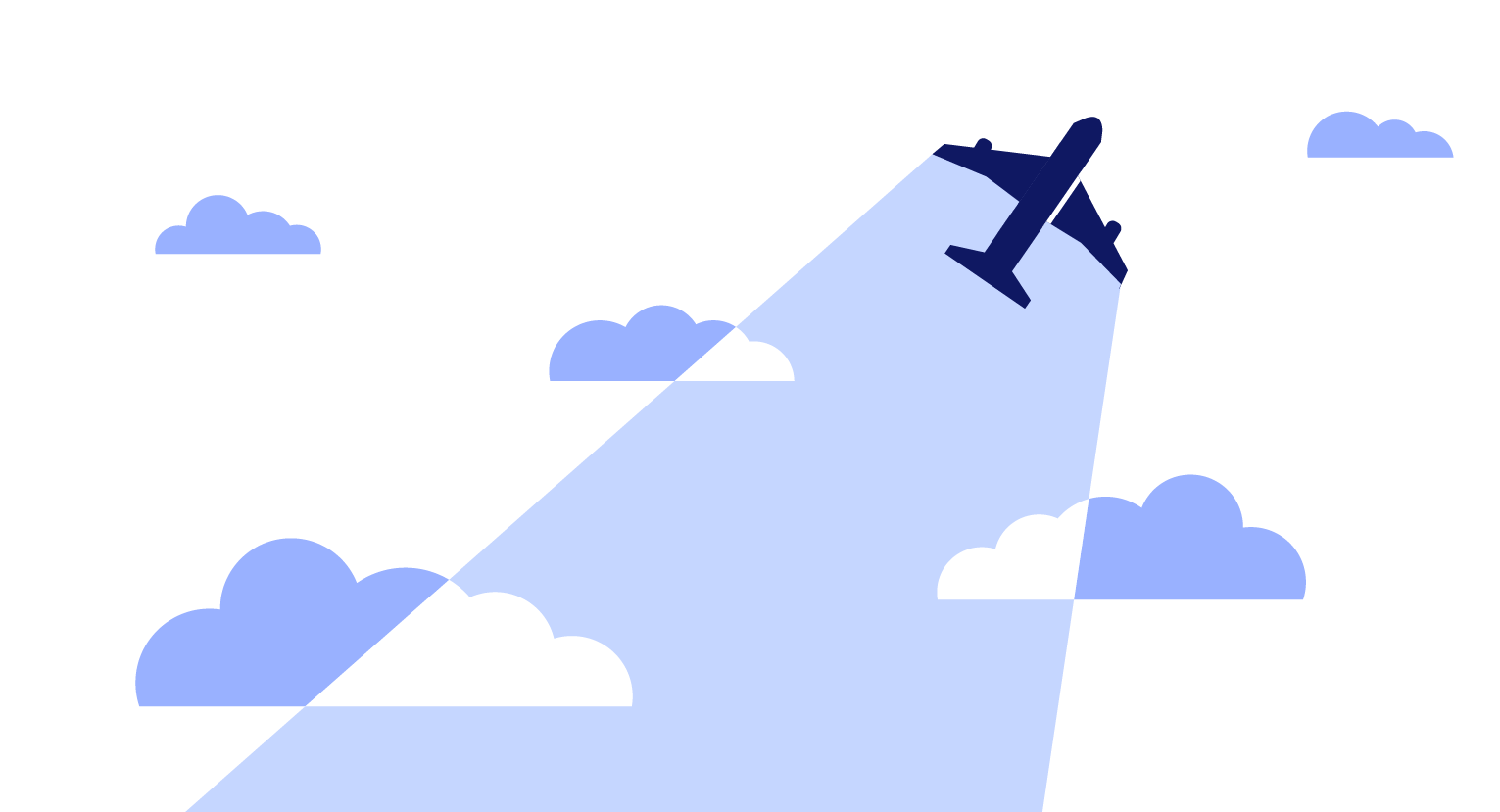 For airlines, it's a critical time to foster a responsible restart to tourism. But fraud can add a major setback in the sound return to profitability.
During Labor Day weekend, air travel hit its highest peak since mid-March. And while this uptick was a hopeful sign for airline revenue, the pandemic is still keeping many travelers away. In this environment, competition is high and airlines are scrambling to win over travelers.
Flexible policies have been one way to gain favor with them. United for example, recently eliminated domestic ticket change fees. Delta, Hawaiian, Alaska, and American Airlines followed with similar changes in policy. And with business travel still largely on hold with companies reluctant to fly their workers, airlines are also increasing service to destinations of interest to leisure travelers. While these efforts should help restore customer confidence and encourage travel, global demand still remains a fraction of what it was. And at times like these, fraud can add a major setback in the sound return to profitability.
The fraud outlook
Last year, United made $625M in revenue just from change and cancellation fees. But airlines are adjusting revenue streams in order to try and make up for the bigger losses brought on by the pandemic. As airlines are busy strategizing for the future amid uncertainty, fraudsters are taking advantage, trying to slip by, focusing on the rebounding domestic travel market. Fraudsters know that airlines will likely not want to jeopardize approval rates at a time when domestic sales are key for growth.
A fraudster favorite
Phishing scams are a popular method fraudsters use to target airlines. Only 7% of carriers protect their email contacts from phishing, email takeovers, and misuse of corporate domains. Without proper authentication of an email owner's identity prior to relaying the message to the recipient, airlines expose themselves to fraud via this channel. Amid disruption and changing policies, the travel sector is even more alluring for these kinds of email attacks. As a result of the outbreak, fraudsters know that travelers are only just recovering from the flurry of cancelled flights and changed schedules and that email notifications from airlines won't go unnoticed or ignored. With vulnerability high, fraudsters send emails linking to cloned airline websites and apps, luring people to enter their login credentials. Once a victim has entered their email and password into a cloned site, fraudsters take those credentials and use them to hack the victim's account.
Our data reveals a surge in account takeovers over the past several months–especially among returning customers. Why are these kinds of ATOs so successful? One reason is that they're hard to spot. Fraudsters rely on the victim's existing relationship with the airline, including a history of good transactions, to help them bypass fraud prevention measures. And with stunted travel, airlines may be even more reluctant to decline orders from once loyal, revenue-generating customers.
The impact
In May, a cyberattack targeting an airline compromised personal data of nine million customers. Email addresses and travel details were stolen and over 2,000 customers also had their credit card details accessed. The fallout? Victims to account takeovers took to social media.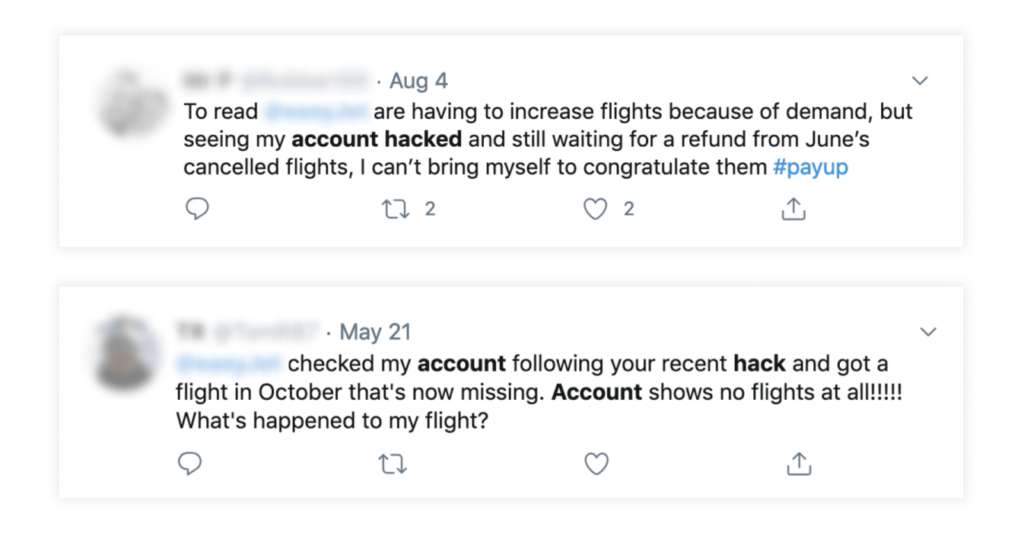 Negative chatter online can blow a major hit to brand reputation and customer lifetime value, at a time when consumer trust has never been more at stake. And then there's the impact on operations: fraud victims often complain to airlines, overwhelming customer service resources. With many teams currently understaffed and overworked, wait times or delayed responses only add to the frustration.
With the holiday season fast approaching, airlines simply can't afford to send customers packing due to ineffective fraud prevention. In 2019, 26 million travelers took flight during Thanksgiving week alone. But this year, the holiday forecast is dim. According to a recent poll from Morning Consult, 68% of Americans will be traveling less than usual this holiday season. Among those that do plan to travel, 77% feel uncomfortable traveling by plane. Short of the holiday rush revenue boost, fraud will only have a bigger impact on profit margins. If airlines fail to bolster their fraud prevention strategies, they'll be hit with massive revenue losses, mounting operational costs, and will lag behind in trying to rebuild a loyal customer base.
While no one can say for certain what the future of travel will be, one thing is for certain: success requires an investment in technology and in partners who can help airlines protect their bottom line no matter what lays ahead. To learn more, contact us directly: sales@riskified.com